Unless you haven't been on the internet the past couple days, you've probably heard about the media blitzkrieg that Space City Con has encountered. Space City Comic Con is a pop culture convention in Houston that focuses on gaming, comics, cosplay, and celebrity meet ups. The con has been around for a couple years but has recently gone through some legal trouble. After overcoming their legal battles earlier in the year, the convention was set for May 27-29 at NRG in downtown Houston. I decided to attend the convention and I wanted to give everyone some details about my personal experience, as well as taking the time to address a lot of the gossip that has been circulating.
I arrived at NRG around 9:30 a.m. on Saturday, May 28. I was pleasantly surprised with how easily accessible the new venue was, as well as the nice parking. Right off the bat I had positive vibes going into the convention. It sounds minor, but location and parking for a convention is a huge thing and can make or break your enjoyment of the event. I know to expect long lines if you don't show up early, that's just part of it. Saturdays are also typically the busiest days on con weekends, so even if you had express lines you would still be jammed with crowds of people. After going inside, I noticed the event had a lot room for vendors. There was a plethora of various artists and local dealers. Ultimately I was satisfied with the amount of tables at the event. I spent HOURS just going through rows and rows of artists, picking up a few things a long the way. I can definitely say this event helped a lot of artists shine, and that is an extremely important part of a successful convention experience.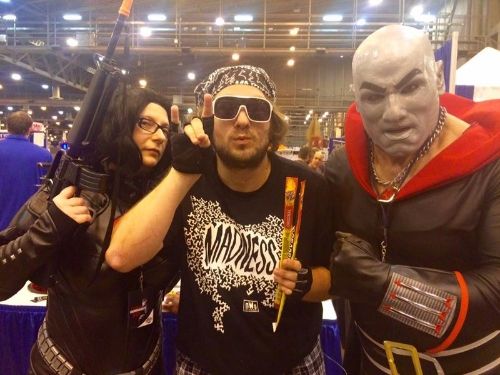 After combing through what felt like miles of vendor tables, I got to visit the celebrity area. This is where fans go to meet their favorite celebrities, for a mostly reasonable fee. Since I had already met several of the people on hand, I decided to go for some of the more obscure celebrities. I had no issues with lines or access to these people. In fact, I spent approximately 20 minutes chatting with Gigi Edgley (Farscape, Creature Shop) and it was one of the most pleasant meeting experiences I've ever had. Most of the celebrities seemed to be in good spirits, tho there was a few of them who were missing from their tables most of the day. We will get to the possible reasoning behind that.
Upon exploring the convention I found that they had an entire floor devoted to gaming. There was a room devoted to arcade, console, and even PC gaming. The only issue I had with that was that several people would sit on a machine and not give others a chance to play. This can be a problem when you have thousands of people wanting to play and only a few machines. You can't possibly have a console for every attendee, so I understood this is a problem that couldn't be avoided. After leaving the gaming area, I was in pretty good spirits. I had witnessed a lot of great vendors, and some fun stuff for the fans to do while killing time. Unfortunately that is where things began to take a turn and I began noticing a few issues.
The main issue I had from my experience was the lack of panels. There was supposed to be a Game of Thrones panel but it was scheduled for 10:30 a.m. that day, and even if you had will call tickets, the odds of you making it to that panel were slim to none. I asked several volunteers where the panel was, and if it was even happening, but literally no one could answer me. There seemed to be a serious issue with misinformation and lack of information on the part of the volunteers. I believe the blame for that rests on the organization of the event tho, and not the volunteers themselves. Another panel I had wanted to visit was the Harp Twins, who are famous YouTube performers. Of course their panel was NOT in the location listed on the website, but thankfully I ran into the twins and they provided me with the correct information. The two hour Sons of Anarchy mega panel that the show was centered around also never really happened. There was maybe 3-4 individuals that showed up, but it was not in a timely manner and it was difficult to figure out what was going on.
After hanging out for a few hours and watching the Harp Twins' amazing performance, I decided to call it a day. On my way out, I noticed massive lines and some disruption going on around the Sons of Anarchy area. Little did I know a massive storm was brewing.
The storm I'm referring to are the incidents that occurred that day involving the cast of Sons Of Anarchy. Many of the stars claimed they had not been paid, and that checks were bouncing. It even escalated to a confrontation between SOA star Charlie Hunnam and head promoter George Comits. Hunnam has since issued a statement detailing his side of the story, stating that the cast members were all stiffed on their pay, and as a result most of them did not show up for their panels that day. A bulk of the crew was also missing from Sunday's show. George Comits recently commented that there was more to the story, and Hunnam had actually brought several guests without informing Comits. Comits claims that Hunnam wanted him to provide room and board for these people. If that is the case, that is an unfortunate unexpected financial problem, but it still leaves many questions. Comits seemed to believe this was an isolated incident with the cast members of SOA, but they were not the only guests who got shorted.
Camille and Kennerly, known as The Harp Twins posted a photo on Twitter giving Comits the middle finger, telling him to "read between the lines," stating he didn't pay them either. So it appears there is some serious financial issues and it all goes back to Comits. But what if there was more to the story? An insider source within the structure of the convention informed me that not only was Comits not the only one to blame, but there was a mutiny of sorts taking place behind the scenes.
Harp Twins conned by Space City Comic Con. Read more here: https://t.co/ifjhtlmaur #SpaceCityComicCon pic.twitter.com/eeEBuuabNJ

— Harp Twins (@CamilleKennerly) May 31, 2016
After conversing with this insider source, I was informed that a person closely involved with the event was behind all of this. The source claims that the troublemaker intentionally sabotaged the convention in an attempt to get George Comits out of the picture. This would make sense since the media immediately blamed Comits, and if they wanted justice they would obviously want someone else to run the show next year. This is where the individual comes in. If Comits was out of commission, then that would give the individual full control of the future of Space City Con. So if this is indeed true, this means that Comits never really had a chance. If someone is determined to watch the world burn, then nothing can stop that. It is just unfortunate that this rivalry caused innocent people to lose money.
While the story continues to develop, one thing is clear. Houston loves it's conventions and I think everyone who attended wants another chance at having fun. I think a lot of these guests also deserve a chance to be rewarded for their hard work. So instead of banishing this convention from the history of Houston, I believe it would be wise for the cosplay and pop culture community to work together to find truth in all of this. I know I certainly want to see more conventions in the future, but that will only happen if we as a community continue to show that we have merit. My heart aches for those who worked the convention and did not receive their compensation.
Regardless of backstage politics, that is unacceptable. A lot of the people who didn't get paid were just normal hard working people who took a lot of time and effort out of their days to support this convention. I wanted to reach Space City Con for more comments, but their official Facebook page has been shutdown and they are not responding to any tweets or emails.