In today's society, almost everything seems to revolve around technology and the media. And with the development of photo editing software and tools [apps on smartphones] located right at our fingertips, it makes photo manipulation easier than ever.
Instagram, an app solely based on pictures and videos has filters within the app itself, so enhancements are inevitable. Also, it allows its users to share those images to other social media websites, like Facebook and Twitter.
Now, there is nothing wrong with filtering a photo here or there. I too have found myself editing my own pictures, it's a natural impulse. And honestly, it is interesting to see the final product, but to look at the same photo side by side and see the filtered version verses its originality can often lead to a reality check. We may want to believe the altered version is the reality because it looks original and authentic, but it really isn't. While in other instances, it is obvious photo manipulation has occurred.
For instance, Zendaya Coleman. The 19-year-old songstress, recently took part in a photoshoot for Modeliste Magazine, who later published altered photos from the shoot. Zendaya took to Instagram to address her thoughts in a post. Revealing to original photo next to the obviously altered photo.
In her post, Zendaya said, "Had a new shoot come out today and was shocked when I found my 19-year-old hips and torso quite manipulated. These are the things that make women self conscious, that create the unrealistic ideals of beauty that we have. Anyone who knows who I am knows I stand for honest and pure self love. So I took it upon myself to release the real pic (right side) and I love it?? Thank you @modelistemagazine for pulling down the images and fixing this retouch issue."
Needless to say, society is not so picture perfect after all.
More recently, Essena O'Neil, a 19-year-old Instagram model recently quit Instagram because she said the photo sharing app made her miserable. "I had it all and I was miserable," O'Neil said. With half a million followers on Instagram, O'Neil felt like she needed to live up to a certain lifestyle, until realizing it was consuming her. O'Neil posted a video on her website discussing her struggle with life and how having it all still made her feel unhappy.
"Everything I did in a day was to be that perfect person online," O'Neil said in the video.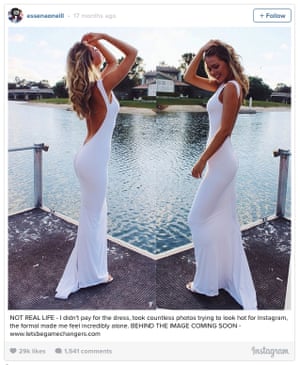 Like the photo on the right. O'neil captioned the image as, "NOT REAL LIFE – I didn't pay for the dress, took countless photos trying to look hot for instagram, the formal made me feel incredibly alone. BEHIND THE IMAGE COMING SOON – www.letsbegamechangers.com"
O'Neil also talked about numbers and how she let them define her and she was right.
As society, we do look at numbers. The number of followers we have on our social media accounts, the number of likes we get on Facebook and Twitter as well as the number of hearts [likes] we receive on Instagram. It's all about numbers, but in reality, numbers do not mean a thing. It's an unhealthy statistic to keep track off. You begin competing with yourself and previously posted pictures and the number of likes they have received. But it's like you're trying to outdo yourself, thinking of what can be done to draw more attention to you photos. These may include editing your eye color, adding saturation, adding concentration or even a sephia filter.
But in reality, all you should really do is focus on being you and not worry about fitting into a particular standard that will make other people like you more.
I myself have an Instagram amount which I created earlier this year and I was not quick to jump on the bandwagon of social media. But once the account was created, it was something I was on almost constantly. Not necessarily posting my own pictures, but more so browsing through my news feed photos.
Ultimately, I have nothing against adding a filter to add dynamic to the photo, however, but when the reshaping of the body comes into play, this is where I disagree with editing and manipulation. If everyone is enhancing their photos to a more slender build then there is no variety and societies uniqueness slowly begins to digress from originality.
Note to self: Embrace the body you were given and love the skin you're in.