For the first half of 2015, we have been blessed with a good crop of solid music, from Miguel, to Rae Sremmurd, to Big Sean, to Kendrick Lamar, to Tyler, the Creator, to A$AP Rocky, but in addition to the album releases, we have also been assaulted with a bevy of hints and whispers about upcoming releases from some of the music industry's biggest names.
Amongst the likes of Rihanna, Kanye West, Kid Cudi, and The Weeknd, one name has been the topic of conversation for about three years.
Frank Ocean is (at this point) more notable for his absence from the music industry than for the music itself. Having only released one (studio) album, channel Orange, in 2013, which garnered critical acclaim, as well as the Grammy for Best Urban Contemporary Album, Ocean has dominated music discussions since his 2011 mixtape nostalgia, ULTRA.
Since his departure from social media in 2013, there has not been much talk of Ocean's solo musical endeavors. After 6 Grammy nominations and a win with Jay Z and Kanye for their track "No Church in the Wild" (Best Rap/Sung Collaboration"), the Odd Future-affiliated crooner has been making more waves out of the studio.
Earlier this year, he changed his name legally to Frank Ocean from Christopher Breaux, after a previous attempt to change his name in 2014 had not been legalized. Around the same time, Chipotle Mexican Grill sued Ocean for a breach of contract for commercial Ocean backed out of due to an issue with the material in the advertisement.
Prior to the Grammys, Frank got into a scuffle with troubled R&B singer Chris Brown over a parking space outside of a studio in West Hollywood. Although Brown threatened to shoot Ocean, and one of Brown's entourage called Ocean a homophobic slur, Ocean decided to not press charges. However, Ocean did ether Brown on his featured verse on fellow Odd Future-member Earl Sweatshirt's Doris album.
Recently, Frank Ocean's musical endeavors have been limited, but notable nonetheless. He was one of the few artists chosen to feature on Beyoncé's surprise visual album in late 2013, contributing vocals and songwriting to the track "Superpower". Additionally, he teamed up with John Mayer for the song "Wildfire", as well as Kanye West's polarizing "New Slaves", and Jay Z's "Oceans". On what would have been the 36th birthday of the late R&B visionary Aaliyah, Ocean uploaded a version of "(At Your Best) You Are Love", which Baby Girl covered on her 1994 debut.
As for his upcoming album, the little that we do seemingly is not enough to satiate the musical appetite of his fans and followers. In February 2013, Ocean confirmed that progress was being made on his second studio album, revealing that it would also be a concept album, featuring collaborations with Tyler, the Creator, Pharrell Williams, and Danger Mouse. Later on, he expressed his present influence by bands like The Beach Boys and The Beatles, also stating that he record part of the album in Bora Bora.
In April 2014, he specified that the album was nearly finished, with Billboard reporting that the singer was back in the studio with many of the artists that worked on his nostalgia, ULTRA project.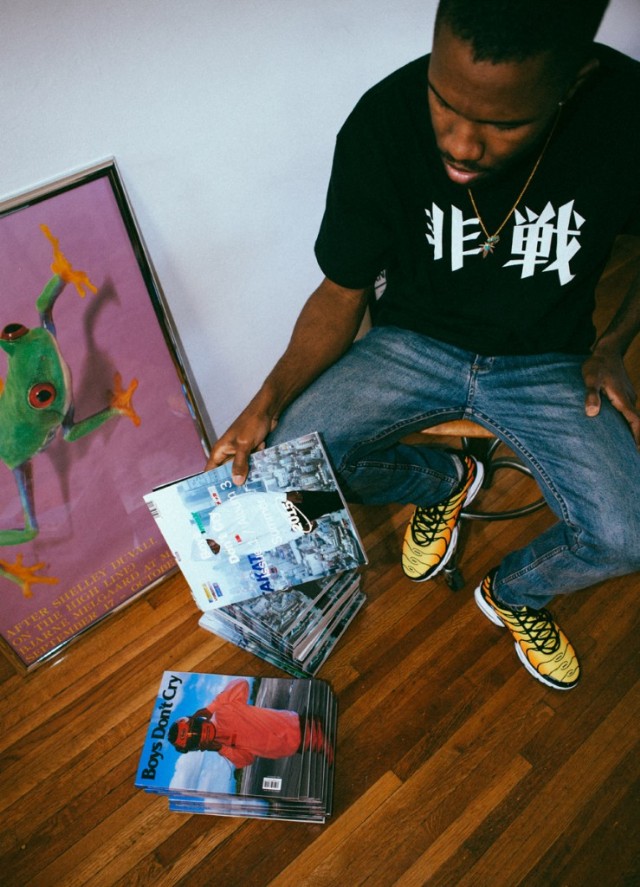 In 2014, Ocean released a snippet of the song "Memrise" onto his official Tumblr page. This past April, Ocean announced that his sophomore album would be released in July, slated to be called Boys Don't Cry, in conjunction with a digital magazine. The posting read "'I got two versions. I got twoooo versions.' #ISSUE1 #ALBUM3 #JULY2015 #BOYSDONTCRY"
https://soundcloud.com/hip-hopdaily/frank-ocean-memrise
What we do know about whatever Frank is released is that Lil B (the Based God) hinted at a collaboration with Ocean, which was furthered clarified by music video director Nabil Elderkin, who revealed that Frank had interviewed the Based God for his magazine.
@thefader @LILBTHEBASEDGOD Nah but we did a fresh photo shoot for Frank Ocean's new Magazine with interview by frank

— nabil (@nabildo) May 5, 2015
With only a few days left in July, hopefully Boys Don't Cry will materialize sooner than later, because Frank Ocean's fanbase (myself included) cannot bear to wait anymore.
Twitter – @shea_jordan